About
Mottahedan Projects (MP) is a commercial project space specializing in exhibiting and promoting international contemporary art. Featuring emerging and established artists, MP exhibits curated group shows as well as special projects by individual artists presented in the form of solo shows. Revising the traditional gallery approach, MP alleviates short-term commercial concerns by  underwriting costs such as production and guaranteeing the purchase of the works exhibited. The project space aims to broaden the world stage for contemporary art as it places works in private collections and acts as a liaison between international galleries and museums in a rapidly growing region.
Situated in Dubai, a city that is itself a product of globalization and one characterized by the porousness of national borders that defines modern life, MP helps artists realize their creative visions and ambitions, by offering them residencies taking advantage of specialized  workshops in Al Qouz industrial area. Its curatorial vision includes cultivating a visual dynamism unafraid of tension, encouraging the viewer to question the role that art plays in socio-political and cultural arenas. MP operates as an accessible space in which art appreciators might seize the opportunity to engage with great works by renowned artists from the 1980s to today as well as emerging artists still early in their careers.
The gallery is currently not accepting unsolicited proposals. Thank you for your cooperation.
Gallery Hours
By appointment only
Location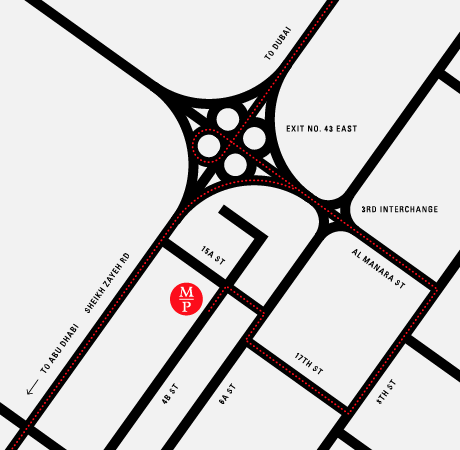 Contact
Al Joud Center No. 17
Sheikh Zayed Road
PO Box 454802
Dubai, UAE
General Inquiries